Alba Balbaína is part of the winery's strong commitment to the albariza white wines of the Albariza soil and serves as an entry point to biologically aged wines. 
The Palomino grapes used to make this wine come from the Balbaína 'pago', the epicenter of historic vineyards in the Jerez District, to which Barbadillo has had a longstanding connection.
Bodegas Barbadillo introduces its new range of still white wines from the Palomino grape and aged on lees.
To craft Alba Balbaína, Barbadillo's technical team selected grapes from a 28-hectare vineyard located in The Balbaína 'pago', specifically in the area of Balbaína Alta area, where the Palomino Fina vines grow just 10 kilometers from the Atlantic Ocean.
At the end of August, the grapes were harvested to produce the must, which then underwent fermentation in stainless steel tanks and was subsequently aged on its lees for 5 months.
Montse Molina, the technical director and winemaker at Bodegas Barbadillo, comments on this new creation: 'The albariza soil of Balbaína Alta is known for its brilliantly white color during the driest months. Hence the name of this wine: Alba, representing.'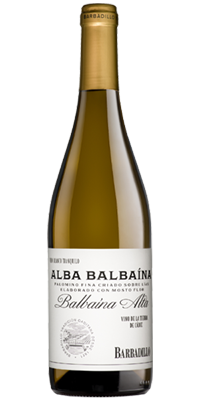 Identity, Origin, and Terroir
This new white wine focuses on the revival of traditional winemaking techniques, a deep connection to the vineyard, and the terroir that has been widely discussed in the Jerez district  in recent years. It is a privileged area where the purest essence of Lower Andalusia's character is felt: the clear light, the sea air, and the white albariza soil, where the vines' roots the grow deeply in search of the underground moisture.
Barbadillo and the Pago de Balbaína have a long-standing connection, as the winery has always sought the finesse that is characteristic of the wines produced from the Palomino grapes that are grown here.
From now on, Alba Balbaína takes its place among the diverse range of white wines that Barbadillo offers in its portfolio, catering to consumers who increasingly seek innovative and distinctive creations to satisfy various palates.
Food Pairing
Alba Balbaína is pale in colour with a fragrant, youthful, and fruity aroma. With its distinctive flavor, it is the perfect complement to fish and seafood dishes, smoked salads, rice dishes, and vegetables. It should be served chilled at a recommended temperature of between 6ºC and 8ºC.