Forty-five years after the launch of Castillo de San Diego, Barbadillo is revamping the wine's image with a redesign that focuses on the concepts of origin, soil and the Palomino Fino grape.
To this end, the new image created for Barbadillo Blanco de Albariza reflects the soul of Sanlúcar de Barrameda, featured in the upper part of the label. The word Barbadillo incorporates a unique typography inspired by the old tiles that decorate the bodega's façade. Meanwhile, the ever-present iconic green bottle remains—as it has on so many great occasions.
As for the wine, we have sought to achieve the freshest and tastiest expression of the Palomino Fino grape, offering a new perspective on white wines from the Cádiz region. For this purpose, we have made great efforts to select the best grapes and have focused our winemaking process on producing a smooth, full-bodied and versatile wine; elegant with a unique and attractive hint of salinity. 
Barbadillo has always brought a taste of its iconic scenery and joyous nature to the table, accessible to all and unique in style. Today, its pleasant personality returns, with added authenticity. This new wine offers a taste of the south, showcasing the Palomino Fino grape and the land where it is grown, drawing us closer to the hallmarks of Barbadillo's 200-year identity as a family winery.
Barbadillo has a pioneering spirit in its genes. You only need to look as far as the launch of Castillo de San Diego in 1975 to see how the winery led the way in producing a young white wine with grapes that, until that time, had only been used in the long-aging fortified wines so characteristic of the Marco de Jerez sherry region. Now, the bodega is embarking on a new venture with Barbadillo Blanco de Albariza.
Barbadillo returns with fresh and pleasurable tones
To talk about Barbadillo is to refer to a milestone in our country's winemaking history. Generations of consumers have enjoyed a fine glass of this white wine, basking in memories of the sun, sea and white-washed towns. 
Barbadillo Blanco de Albariza is made from Palomino Fino grapes selected from our chalky Albariza soil vineyards to ensure that the freshest and most lively expression of this grape variety is achieved. This soil, distinctive for its white colour, its salinity, and capacity to retain humidity is what makes Palomino Fino grapes fresh, flavoursome and balanced in acidity.
The result, together with the choice of native yeasts in the production process, is a smooth, full-bodied and versatile wine; elegant with just the right touch of salinity that makes it so unique and attractive. This is the new Barbadillo Blanco de Albariza, the wine you have always enjoyed, but now with added finesse and a livelier, more transparent quality.
Blanco de Albariza inaugurates a new range that highlights hallmarks of the Barbadillo brand, to which new wines will be soon added.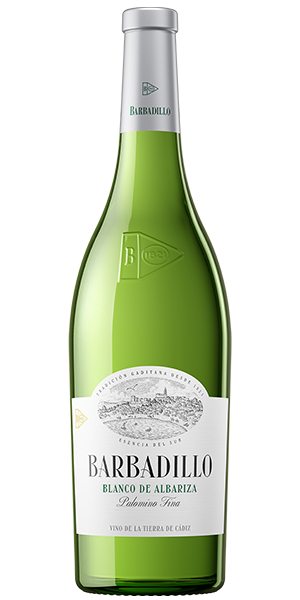 Descendent of Castillo de San Diego
In 1975, Barbadillo was a pioneer in extracting the full versatility of the Palomino Fino grape, launching a white wine produced from a grape that had only ever been used to make sherries and manzanilla wines.
With its Blanco de Albariza, Barbadillo seeks to return to its roots, giving centre stage to the grape and the land where it is grown, drawing closer to the hallmarks of its identity, with a wine that is so distinctively from Cádiz. Only this area could produce such a pleasant and lively wine, an authentic Blanco de Albariza.
Pairings from the south
Its pale-yellow colour and fragrant, young and fruity aroma make it the perfect accompaniment to tapas, appetizers and starters such as Spanish ham, mild cheeses and nuts.
Its distinctive flavour is the ideal accompaniment to fish, seafood, cold smoked fish and rice or vegetable dishes. It should be served chilled at a recommended temperature of between 6º and 10ºC.