With this new collection, it is 'Barbadillo' that takes centre stage, offering greater value, recognition and authenticity without losing sight of its origins.
This collection, which is named after the winery itself, includes Barbadillo Tinto joven, Barbadillo Semidulce and Barbadillo Rosado, in addition to the recently launched, Barbadillo Blanco de Albariza.
Bodegas Barbadillo brings together four of its wines under its iconic brand. After the recent launch of Barbadillo Blanco de Albariza, the family winery has now completed its 'Barbadillo' collection with a red, a semi-sweet white and a rose that are perfect for any occasion. If you want to enjoy an aperitif with friends, a meal with your family, or an afterwork drink with your colleagues, or even if you are just looking for a simple moment of pleasure and indulgence at the end of your day, there is something for everyone in this collection. By naming this collection 'Barbadillo', the winery has attributed it the very highest value and recognition. It is being launched with a new image that not only showcases its authenticity, but that also takes us on a journey back to its origins. In this collection of wines that are so characteristic of Cadiz and that bear the winery's oenological signature, it is the grapes and the vineyards that take prominence.
To speak of 'Barbadillo' is to speak of an emblematic figure in our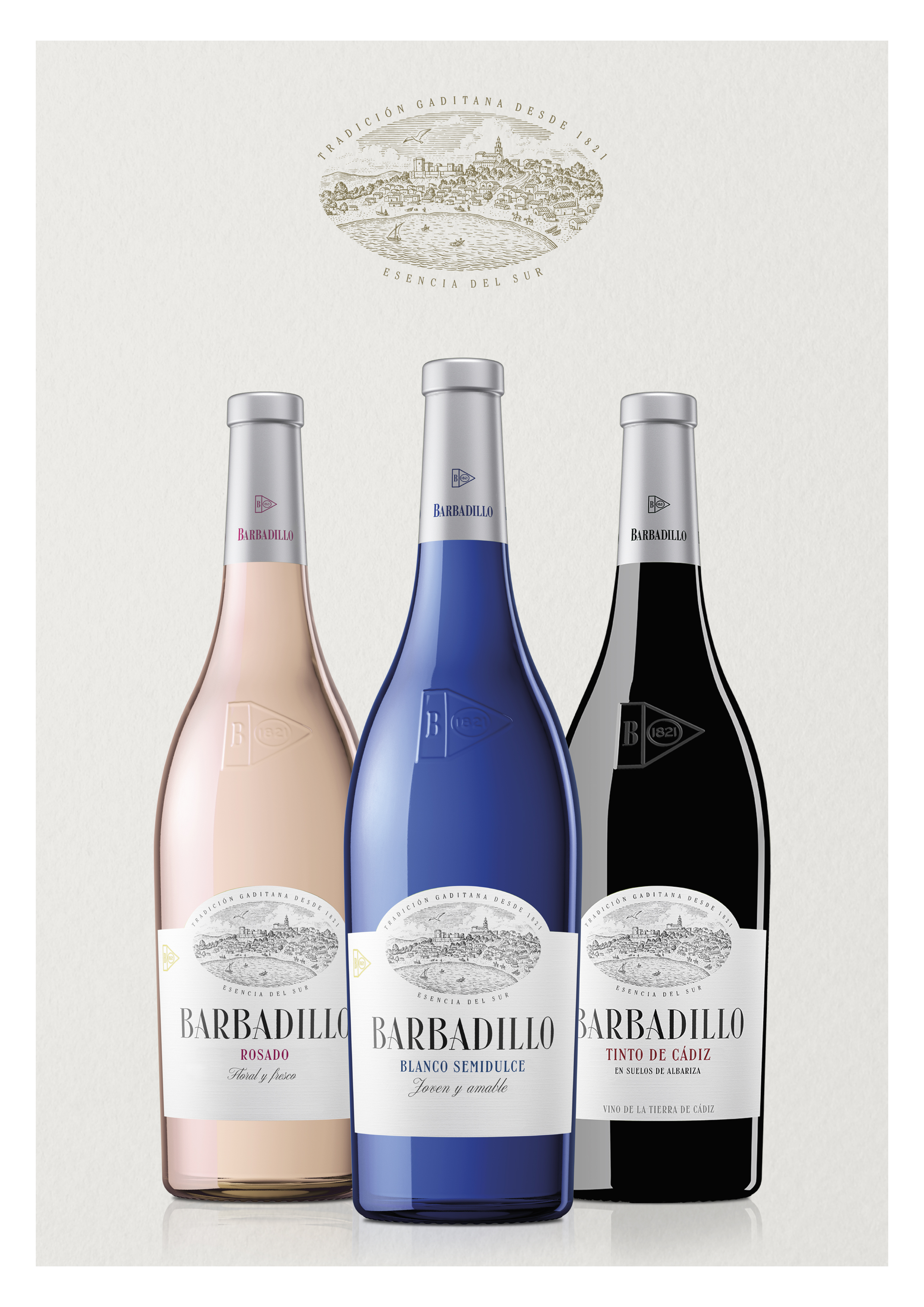 country's wine history and of a winery included in the Leading Brands of Spain Forum. For generations now, consumers have been able to savour the very essence of the south each time they uncork a bottle.
Barbadillo Tinto: Cadiz as a red wine
This new red wine from the 2022 vintage is included under the PGI Vinos de la Tierra de Cádiz. It is produced from four grape varieties -Syrah, Tempranillo, Tintilla de Rota and Merlot-, all of which have been aged to excellence in the Gibalbín Vineyards. Pairing: With its dark cherry colour and fruity aroma, it pairs perfectly with tapas, appetizers, starters such as ham, cheese, nuts, and hot or cold soups. Its unique flavour makes it the ideal accompaniment to cheese soufflés, spiced meat pies, grilled or oven-cooked meats, vegetable stews, rice or pulses, Iberian pork sirloins or roast beef served with a potato soufflé or even steamed potatoes. It is also a perfect dessert wine, pairing well with strong cheese or fruit, in particular pears, which have been macerated in this wine. Ideal serving temperature: 15º. RRP.: 4.95 euros
Barbadillo Semidulce: a young and pleasant white wine
Its blue bottle will take you on a journey to the coasts of Cadiz, paying homage to the sea that surrounds the bay of Cadiz. Barbadillo Semidulce was previously known as Maestrante semidulce. Pairing: Its pale yellow colour and its young, fragrant and fruity aroma makes it the perfect accompaniment to tapas, appetizers and starters such as ham, mild cheeses and nuts. With its unique flavour, it pairs perfectly with fish and seafood, smoked fish salads, rice and vegetable dishes. Serve cold at a temperature of between 6ºC and 8ºC in a white wine glass. RRP.: 4.75 euros
Barbadillo Rosado: a rosé with the fresh fruitiness of the red grape
This young Barbadillo Rosado is produced from Tempranillo and Cabernet Sauvignon grapes that have undergone a delicate process to extract all of their aroma and sweetness without dyeing the must. It is as if you were making a white wine from red grapes. The fermentation is done in such a way that it really brings out the fresh berry and flower aromas. This wine is flavourful and well-balanced, it has great volume and is smooth on the palate, and it has a certain acidity that gives it a real freshness. Pairing: This pale rose is a pleasant, fruity and very drinkable wine that pairs well with almost any dish: rice stews, vegetable tempura, poultry and smoked fish. RRP.: 4.95 euros