Bodega Vega Real has launched a unique Ribera del Duero red wine from old vine Tempranillo. The 'Finca Vega Real'  vineyards are over 70 years old and located at an altitude of over 850 metres.
Bodega Vega Real, from  Bodegas Barbadillo, introduces Finca Vega Real, an atypical and unique  Ribera del Duero, which represents a break away from the classic traditional Ribera del Duero. The grapes are sourced from 70 year old vines located at an altitude of over 850 metres from the Pradejón, Evaristo, and Sardal vineyards. Luis Cuadrado, the winemaker of Bodega Vega Real selects the grape bunches at optimum ripeness for this wine. His intention is to extract the full potential of the old vine grapes of the Ribera del Duero in terms of freshness and smoothness. Finca Vega Real has released only 2000 bottles of the winery's most cutting edge wine. It is intended for experienced wine enthusiasts who have had enough of overly oaked wines, seeking more expressive and interesting flavours.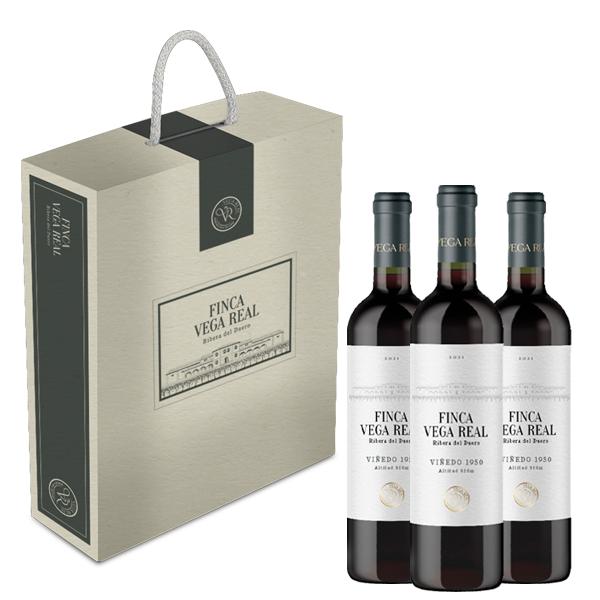 A young wine that comes from old vineyards at altitude. The terroir marks the character of a wine, and especially when we talk about vineyards dating back to the 1950s. Finca Vega Real is a bold wine that should impress. It is crafted as a young wine using the local Tempranillo variety, locally known as 'Tinta del Pais'. It is the result of several decades of care and preservation of the 70 year old vineyards and a full expression of the 'terroir' of the Ribera de Duero. This care extends to the winemaking procedure, in which this small winery adopts handcrafted methods to make the wine. In the words of winemaker Luis Cuadrado: "Finca Vega Real is the result of showing off the grape wine from the old vines, minimising the effects of processing such as oak ageing "
Rebellion and finesse. Its short time in French oak casks offers subtle light-toasted aromas of wood masked by the fruit's power: currant, blackberry, and plum. It has an intense garnet colour with violet edges and a great structure provided by a deep tannins, but at the same time sweet and full, a characteristic of old vines.  The new identity of Bodegas Vega Real. The value of the territory and the privileged location of the winery is one of the aspects on which Vega Real has based its change of image and corporate identity. Hence the name 'Finca' precedes the name of its products and ranges from now on, one of the most noteworthy changes, as well as the renewal of its logo. Finca Vega Real is the winery's first product launch under the new name, with which it is intended to be recognised as a great but small winery with its winemaker -Luis Cuadrado- at the front, who has managed to provide the wines of this winery with a unique character thanks to his care and measured work over the years from the vineyard to the bottle.